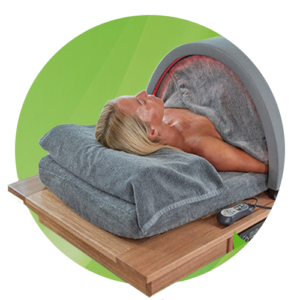 Sunlighten Infrared Sauna
Courtesy of Sunlighten, we offer a state-of-the-art infrared sauna for your use. Step into the sauna for a thorough detoxing process, which can serve to destress while also offering physical benefits – including boosting your immune system, and general circulation improvements. These saunas emit infrared waves which are absorbed by the body, offering benefits not seen in typical saunas. With top technology, you cannot go wrong with an infrared sauna. Schedule an appointment today and get started on your recovery and relaxation journey.
Salt therapy, or halotherapy, has quickly become a favorite for many athletes and everyday people of all ages. This natural treatment method ensures no negative side effects, while removing toxicity from your respiratory system – bringing new life to your skin, as well as your immune system. Look better and feel better with our beautiful salt therapy rooms, and eliminate stress in style. This relaxation session allows salt to break down and dissolve bacteria and pollutants found within your body, opening your airways. Get started by scheduling an appointment today!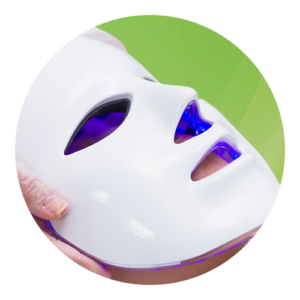 LED light offers substantial benefits to skin, and different wavelengths and colors can provide unique perks. Unlike other treatments, LED facial masks do not heat the skin or cause any negative side effects. This easy-to-use device simply rests on your face, and utilizes a range of colors to administer different benefits. You can expect increased elastin, collagen, softer wrinkles and lines, bacteria breakdown, reduced redness, increased cell energy, sun damage repair, and much more. Gte started today by scheduling an appointment.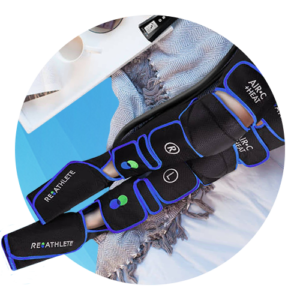 Air-C + Heat by REATHLETE is a therapeutic device that offers three levels of heating, allowing users to quickly heal and recover in comfort. Heat therapy is vital for users looking to address muscle and ligament pain, healing your damaged tissues by increasing blood flow. The device offers full leg compression and heat therapy from your feet to your thighs. Address your healing needs with heat therapy courtesy of Revive IV Therapy & Wellness, and schedule an appointment today. We are here to help you on your healing journey!
112 Main St., Lower Level, Right Side Entrance
Northborough, MA 01532
112 Main St., Lower Level
Right Side Entrance
Northborough, MA 01532